Green Check Verified Acquires Komplyd, Expanding Data Connectivity and Actionable Insights for Cannabis Businesses
Collaboration will allow company to seamlessly connect the supply chain of the cannabis plant to the supply chain of cannabis commerce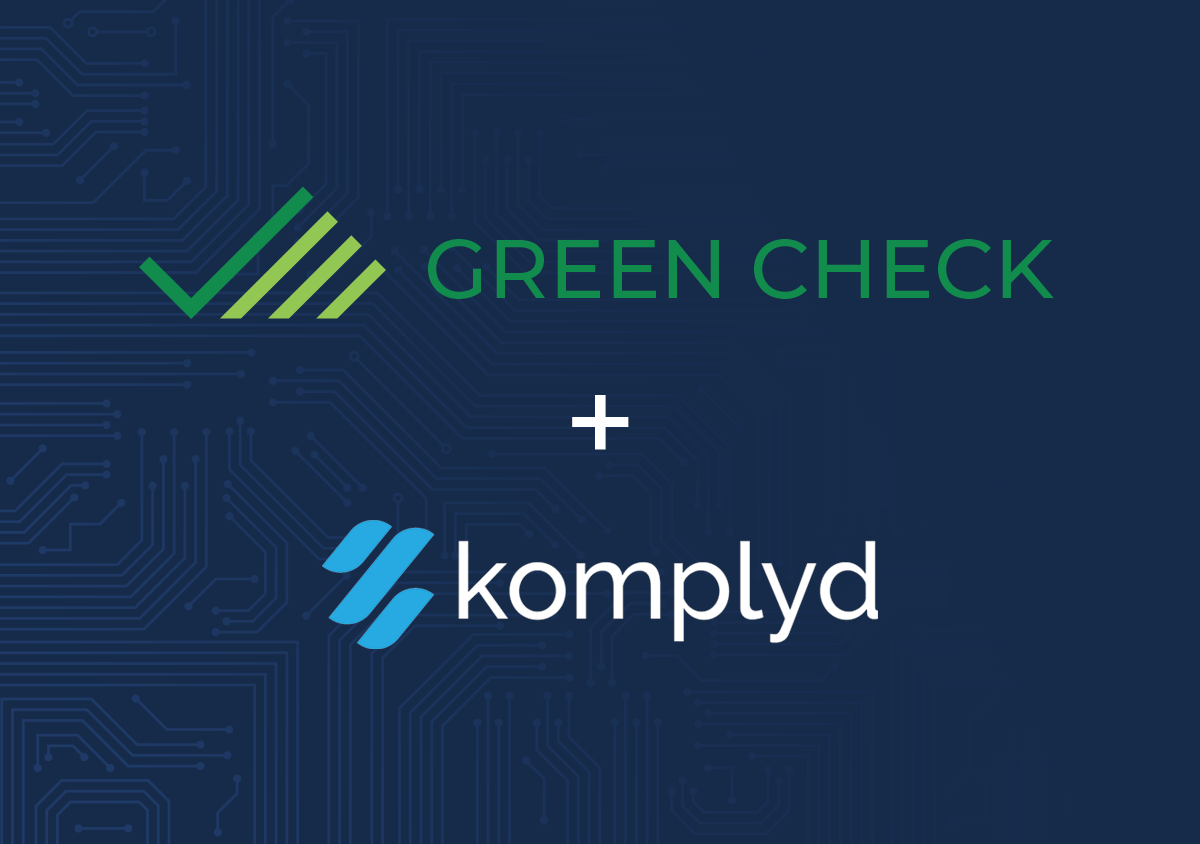 BONITA SPRINGS, FL – June 6, 2023 – Green Check Verified (GCV), the leading fintech provider of compliant cannabis banking solutions and business services, today announced that it has acquired Komplyd, the first purpose-built compliance-as-a-service platform designed for business applications targeting the cannabis industry.
The acquisition will enable Green Check Verified to further integrate with seed to sale (S2S) technologies and more seamlessly connect the supply chain of the plant to the supply chain of commerce, which is integral to the future of interstate and international cannabis commerce.
"The addition of Komplyd to the Green Check suite will compliment the existing data sources within the Green Check platform," said Mike Kennedy, Chief Strategy Officer and co-founder of Green Check Verified. "Partnering with Komplyd enables a much deeper level of data connectivity and resulting in an insight-driven, integrated experience for the cannabis operators on our platform and provides greater value to our marketplace providers and financial institution clients."
This latest news follows Green Check's recent close of the acquisition of PayQwick, which has been successfully servicing underbanked cannabis businesses with payments and lending since 2015, and the January 2023 launch of Green Check's cannabis business services marketplace, Green Check Connect.
"Together, Komplyd within Green Check Verified will equip cannabis business leaders with the financial services and technology platforms they need to move the industry forward," said Rose Elliott, CEO and co-founder of Komplyd. "We're proud to join the Green Check Verified family and marry our core data and technology capabilities with Green Check's existing ecosystem in the cannabis space."
This agreement comes amid a number of other recent Green Check Verified developments, including a $6 million Series A funding round led by Mendon Venture Partners and recognition on Forbes Cannabis 42.0 list in April of this year.
About Green Check Verified
Green Check Verified (GCV) is modernizing the way cannabis businesses and financial institutions work together. Founded in 2017 by a team of technology, banking, and regulatory experts, GCV provides industry-leading technology and advisory services to more than 130 financial institutions and over 4,000 cannabis-related businesses. Green Check Verified was included in the 2023 Forbes Cannabis 42.0 and named one of 50 game-changers in the cannabis industry in the 4th annual The Cannabis 50. It has been repeatedly recognized as Top Compliance Company and Top Compliance Leader at the PBC Awards, the premier cannabis industry honors. It also was named as one of top three Best Places to Work in Fintech in 2022 by American Banker. To learn more about Green Check Verified, visit www.greencheckverified.com and follow it on LinkedIn.
About Komplyd
Komplyd is the first purpose-built compliance-as-a-service platform designed for business applications targeting the cannabis industry. Making it easy and cost efficient for product development teams to integrate regulatory compliance features and analytics in their applications, Komplyd enables developers to deliver value to their customers faster, better, and cheaper. To learn more, visit https://komplyd.com/ and follow it on LinkedIn.