Green Check Verified Launches Marketplace Green Check Connect
Green Check Connect will provide underserved cannabis industry with access to essential financial and business products and services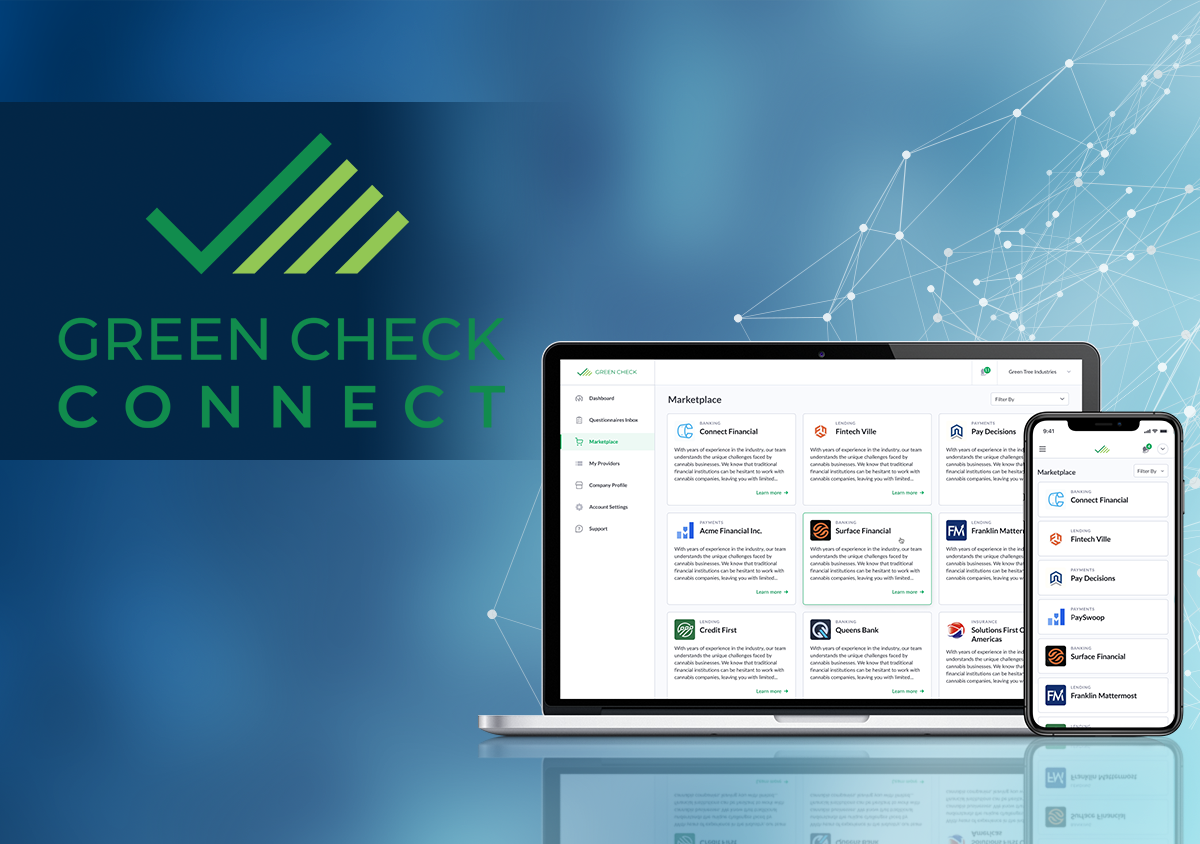 BONITA SPRINGS, FL, January 31, 2023 – Green Check Verified (GCV), the leading fintech provider of compliant cannabis banking solutions and services, today announced the launch of Green Check Connect, a new marketplace to help cannabis-related businesses (CRBs) identify reliable, trustworthy, and cost effective service providers to meet their essential financial and business needs, including banking, lending, insurance, human resources, payroll and cash logistics.
While the inaccessibility of reliable banking services is a widely recognized impediment in the industry, cannabis-related business (CRBs) are vastly underserved across a sweeping spectrum of business and financial services.  Although more service providers are entering the market as the industry matures, limited offerings and exploitative pricing models remain commonplace. To address this shortcoming, GCV is assembling a network of cannabis-friendly companies in the most essential business categories to provide CRBs with access to a number of trusted service providers that can help them succeed. 
"As a longtime client, I am thrilled that Green Check is launching a marketplace for cannabis-related businesses like mine," says Ray Pantalena, Registered Pharmacist (RPh) and owner of Affinity Health & Wellness in New Haven, Connecticut.  "Having a centralized marketplace of reputable and fair companies eager to work with cannabis businesses is a game changer for the industry." 
Green Check Connect will provide the company's roster of financial institution (FI) clients with access to an expanding number of CRBs in need of modern financial and business products and services. By furnishing their current CRB customers with a comprehensive and easy-to-use marketplace of reliable partners, it also will empower them to better assist their current client roster.
"In addition to being the top compliance company in cannabis banking, Green Check continues to differentiate itself with its focus on growth – both its own and its clients',"  said Jeff Trammell, chief operating officer at Merchants & Marine Bank and CannaFirst Financial.  "We aim to become the go-to bank in Mississippi for this exciting industry, and we are confident that Green Check Connect will make us more competitive and improve the business health of our cannabis-related clients." 
All Green Check Connect participants will benefit from the platform's intelligent matching technology, which will present options to cannabis businesses based on product/service fit, location, price and a variety of other factors based on provider data and Green Check's industry-leading insights engine. 
"We are excited to be an early participant in Green Check Connect," says Adam Stettner, CEO of FundCanna in California.  "Gaining access to the right customers will help us more efficiently and effectively serve the cannabis industry and continue our mission of providing fair lending products to businesses that have struggled with this critical business need."
The launch of Green Check Connect follows a wave of new releases from the GCV product team. The new products and services include an advanced insights feature, which creates automatic configurable results for out-of-norm customer behavior with configurable thresholds fine-tuned to an institution's risk appetite, and Account Monitoring 2.0 which provides unparalleled visibility into direct and indirect cannabis customer activity, including trends and abnormalities.
"Our product team, led by Cherie LaFlamme, has been firing on all cylinders striving to provide innovative, market-driven solutions that deliver real impact to our users," says Mike Kennedy, GCV co-founder and chief strategy officer. "We're confident that Green Check Connect will dramatically reduce the time, effort, and cost businesses expend searching for, vetting, and acquiring the services they need to grow."
About Green Check Verified
Green Check Verified (GCV) is modernizing the way cannabis businesses and financial institutions work together. Founded in 2017 by a team of technology, banking, and regulatory experts, GCV provides industry-leading technology and advisory services to more than 130 financial institutions and over 4,000 cannabis-related businesses. It has been repeatedly recognized as Top Compliance Company and Top Compliance Leader at the PBC Awards, the premier cannabis industry honors. It also was named in the Top Three  Best Places to Work in Fintech in 2022 by American Banker. To learn more about Green Check Verified, visit www.greencheckverified.com and follow it on LinkedIn.