Flexibility is key when it comes to building and scaling a cannabis banking program. The requirements that a financial institution (FI) gathers as part of their initial and ongoing due diligence can vary widely depending on the type of cannabis or cannabis-related businesses they serve. As an FI, you may choose to oversee the compliance and performance of all or some of the following—direct plant-touching, hemp/CBD, and indirect cannabis-related businesses—and want a way to manage all of these accounts with one unified solution.
At Green Check, we were able to get ahead of this by identifying, watching, and learning from the growing indirect cannabis-related market. While our platform initially allowed FIs to serve direct plant-touching businesses with the regulatory scrutiny and oversight required, we realized that a flexible, more dynamic version of the due diligence process was needed in order to include hemp and indirect cannabis-related businesses into your cannabis banking portfolio. 
So the product team got to work.
Understanding the needs of our FI partners was first and foremost. We knew our current solution worked very well for direct cannabis businesses. We also read and internalized the regulatory guidance surrounding this space. And our previous flexible due diligence template allowed for financial institutions to collect the documentation required to open an account with their institution. But we knew that one template alone wouldn't be enough to serve this growing industry, so we started brainstorming ways to create and manage multiple due diligence templates to suit a program's needs.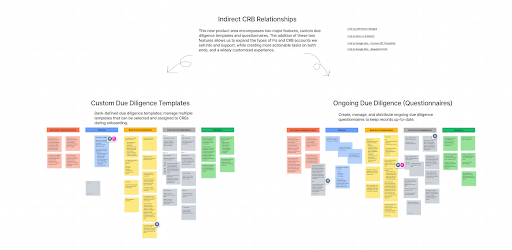 Part of the brainstorming process we use to build new products and features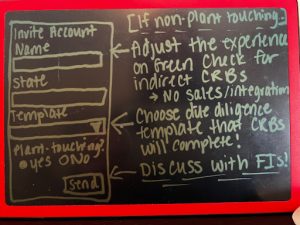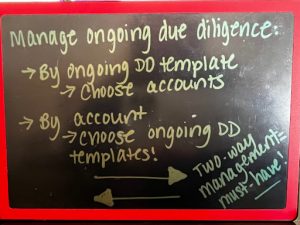 Some analogue product team musings about customizing the account invite process and two-way configuration of ongoing due diligence
We asked the following questions to our existing client base and to prospective clients: 
What types of information are you collecting as part of the due diligence process? How do the due diligence requirements differ based on the type of CRB you're serving? 

What is your ongoing due diligence process? 

How does onboarding a hemp business, for example, compare to onboarding a lawyer or accountant that serves direct plant-touching cannabis clientele?
After we had the answers to questions like these and many more, we began designing a solution that worked for any cannabis banking program, regardless of the number and types of CRBs in the portfolio. We came up with the following goals for this product: 
Allow financial institutions to create, customize, and manage multiple due diligence templates to send to CRBs during the onboarding process (note: it has to be user friendly!)

Make sure CRBs answer only the questions (nothing more, nothing less) and upload only the documentation required of them depending on the type of business they operate

Create an automated and scalable ongoing due diligence product that ensures an FI's portfolio can grow and scale without the need to add additional team members

Ensure financial institutions can run reports and analyze data on their ongoing due diligence to track how their portfolio is performing
After months of brainstorming, UX/UI research and design, and back-end and front-end development, we came up with an intuitive and useful product that allows end-to-end management of the entire due diligence process with minimal setup and maintenance. Aside from streamlining initial and ongoing due diligence to provide relief on a financial institution's compliance team to meet the goals outlined above, it will also add new opportunities for our financial institutions leading to a material impact on their bottom line.
For more information, read our press release or contact us.