Earlier this week House leadership proposed a new coronavirus relief bill that includes provisions to protect financial institutions that choose to serve legitimate cannabis businesses.
‍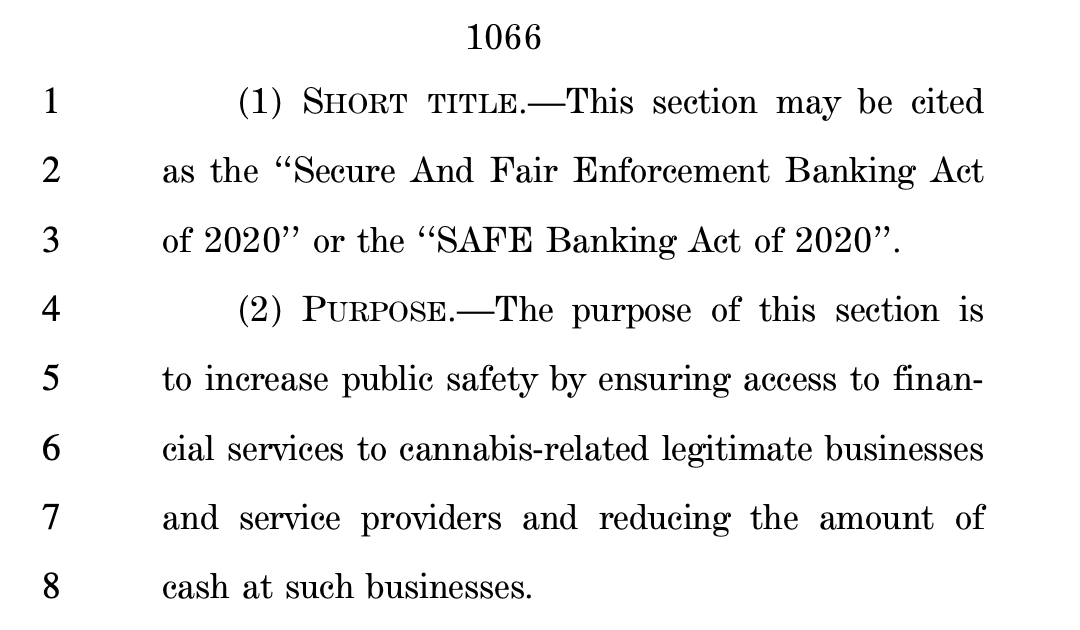 ‍
Specifically, the section reads that a Federal regulator may not take enforcement action "solely because the depository institution provides or has provided financial services to a cannabis-related legitimate business or service provider."
‍
A summary of the proposed bill explains that "This section would allow cannabis-related legitimate businesses, that in many states have remained open during the COVID-19 pandemic as essential services, along with their service providers, to access banking services and products, as well as insurance.
‍
"This section also requires reports to Congress on access to financial services and barriers to marketplace entry for potential and existing minority-owned cannabis related legitimate businesses," it continues.
‍
The SAFE Banking Act was designed largely as a public safety measure to get cannabis cash off the streets, while also making tax collection and regulatory oversight easier for the 36 states with marijuana programs. The bill offers protections for financial institutions who serve the cannabis industry, ensuring these institutions won't face regulatory enforcement so long as they can demonstrate effective compliance and oversight of their cannabis accounts.
‍
While the inclusion of the SAFE Banking Act in the bill, known as the HEROES Act, surely marks significant progress, it's uncertain whether the proposal will gain traction in the Senate.
‍
That being said, it's certainly possible to start offering services to the cannabis industry regardless of the current status of the SAFE Banking Act. We've already seen regulators encourage institutions to work with cannabis business by providing some assurances that they will not be punished simply for working with cannabis-related businesses that operate within full compliance of state laws.
‍
In fact, our team works with financial institutions every day that have opted in and accepted the risks of banking because they understand the financial and community benefits they generate by doing so. They have been able to safely enter this market by closely following existing federal guidance and taking extensive measures to ensure that the businesses they are serving are not violating any rules set forth by the state.
‍
While the passing of the SAFE Banking Act, or others like it, is not a necessary precursor for financial institutions who want to start serving cannabis businesses, it is undoubtedly encouraging that lawmakers are continuing to focus on increasing the cannabis industry's access to basic, reliable financial services.
‍
If your financial institution needs expert guidance on building a cannabis banking program from the ground up, download our guide for building a business case here.
‍