Regulatory Update – September 2022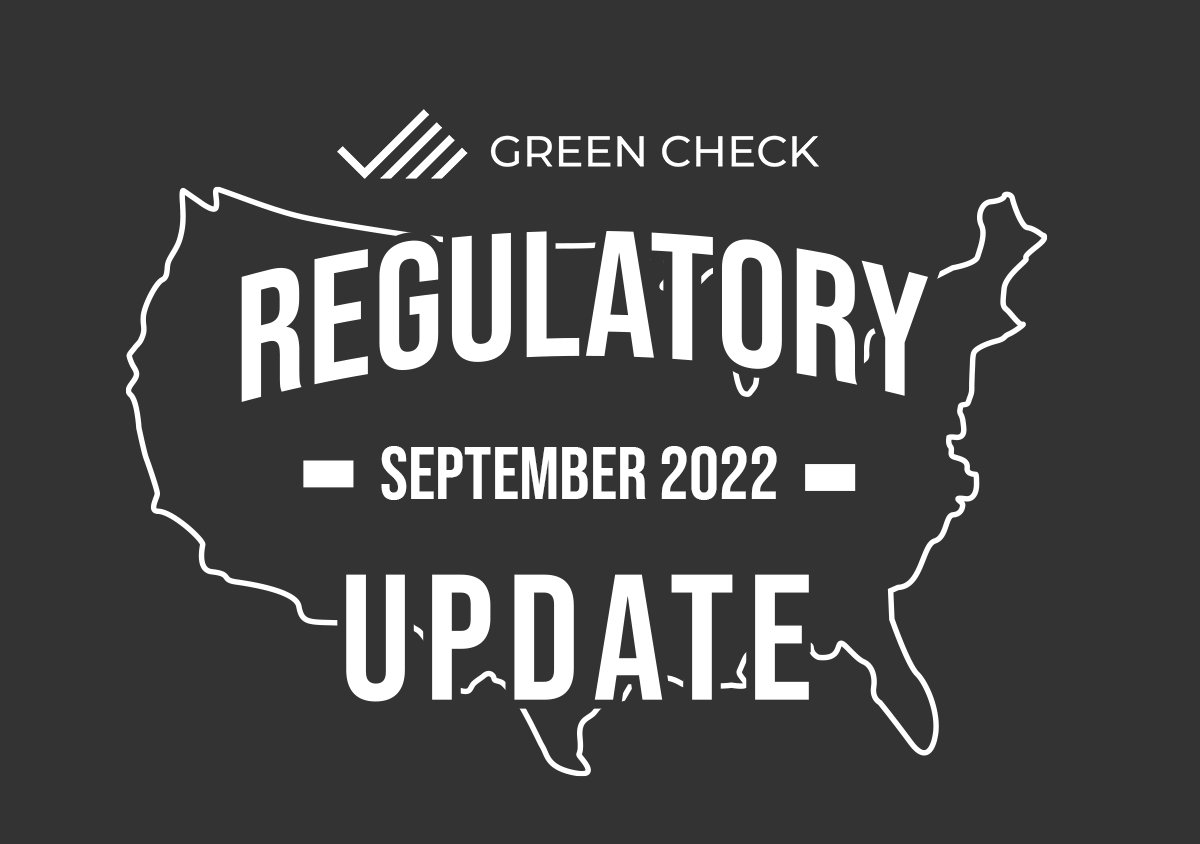 States Matters
California
At least 28 California municipalities could create cannabis ballot initiatives this November election cycle, creating 125-150 new cannabis business licenses. If passed, we would see the largest cohort of new markets open up to cannabis since California started regulating adult use in 2018, according to MJBizDaily research. The proposed referendums will ask voters to approve or prohibit marijuana businesses. The voter-led ballot drives would begin to close the wide gaps in consumer accessibility since a majority of cities and counties across the state still ban commercial marijuana operations. According to MJ Biz, "most of the initiatives are centered near dense population centers in Southern California, near L.A. and San Diego, with the potential for Los Angeles County to approve as many as 25 stores, and San Diego County 20-40 retailers." According to the state's Department of Cannabis Control, only 31% of 539 cities and counties in California allow cannabis retail operations. 
Nevada (Las Vegas)
On September 21, 2022, In a 5-1 vote, the Las Vegas City Council approved Cannabis Consumption Lounges. Unincorporated Clark and Las Vegas County will be the only jurisdictions in Southern Nevada to host the lounges, which are similar to taverns but no alcohol sales will be allowed. The new license type will allow marijuana customers to consume legally outside of private homes since voters legalized recreational use in 2016. Now the 40 million or so yearly tourists will have a place to legally consume, without having to resort to doing so illegally in the street, parking garages, or hotel rooms. Most of the licenses will be issued to existing dispensaries with lounges attached to or "adjacent" to the businesses. There are currently 17 licensed dispensaries in the city, but "statewide, there will be 20 licenses issued to independent applicants for standalone gathering spots, with half to go to "social equity applicants," who've been adversely affected by marijuana laws before the state legalized it," according to Las Vegas Review Journal Other cities like North Las Vegas, Henderson, Boulder City, and Mesquite have opted out. In order to comply with state laws city staffers will now need to iron out the 2019 Social Use Venue ordinance that will lay the groundwork for consumption lounges in the city of Las Vegas. The city expects its application process to open in the first couple of months of 2023, with the first lounges in the county projected to open up early next year.
Vermont
Vermont joined 14 other states with legal adult-use cannabis sales, according to the Marijuana Policy Project. On October 1st adult-use sales began in Vermont though only three dispensaries were ready to be open on day 1 "Vermont's inaugural weekend will be "more of a soft opening," as more product manufacturers and testing facilities come online and cannabis harvest become available, said James Pepper, chair of the state Cannabis Control Board" according to the Washington Post. Vermont's Cannabis Control Board prioritized review and waived licensing fees for social equity applicants that are Black or Hispanic, or from communities that historically have been disproportionately affected by cannabis being outlawed, or who have been or had a family member who has been incarcerated for a cannabis-related offense. More than 30 social equity applicants, mostly growers, have been approved.
Oklahoma
Oklahomans will not be voting on adult-use cannabis legalization on Nov. 8. The state's Supreme Court recently denied a request by advocates behind State Question 820 to instruct the Oklahoma Election Board to include the adult-use petition on the ballot after the signature-verification process wasn't completed on time, according to MJBizdaily.com. Justice Douglas Combs stated, "SQ820 will be voted upon by the people of Oklahoma, albeit either at the next general election following November 8, 2022, or at a special election set by the Governor or the Legislature, but could not be mandated to be included on the November 2022 general election ballot."
In previous ballot initiatives, the secretary of state's office was responsible only for counting petition signatures for ballot questions, but in this instance, the delays began at the secretary of state's office, when they outsourced the verification process to a third party, which took seven weeks contrary to earlier statements by the secretary of State's office that the process would take two to three weeks.
Guam
As of September 26, the Cannabis Control Board in the US territory of Guam has approved two applications for "responsible official" identification cards. The "responsible official" credential allows an applicant to apply with the Guam Department of Revenue and Taxation for a Cannabis License and Cannabis Establishment Permit. Guam legalized adult use of cannabis in 2019, with rules and regulations taking effect this past May 29th. Adults 21 and over are eligible to grow, possess and consume cannabis. However, it is illegal to sell or trade cannabis for any value unless you have attained the proper credentials and licenses for an establishment. There will be licenses for cultivation, manufacturing, testing facilities, and retail locations, but residents will only be able to own one type of cannabis business license. The cannabis law requires a 15% excise tax to be assessed when cannabis growers sell to manufacturers or retailers. Half of the tax collected will go to the government's general fund and the rest will be divided between the Department of Public Health and Social Services and the Guam Police Department.