Regulatory Update – October 2022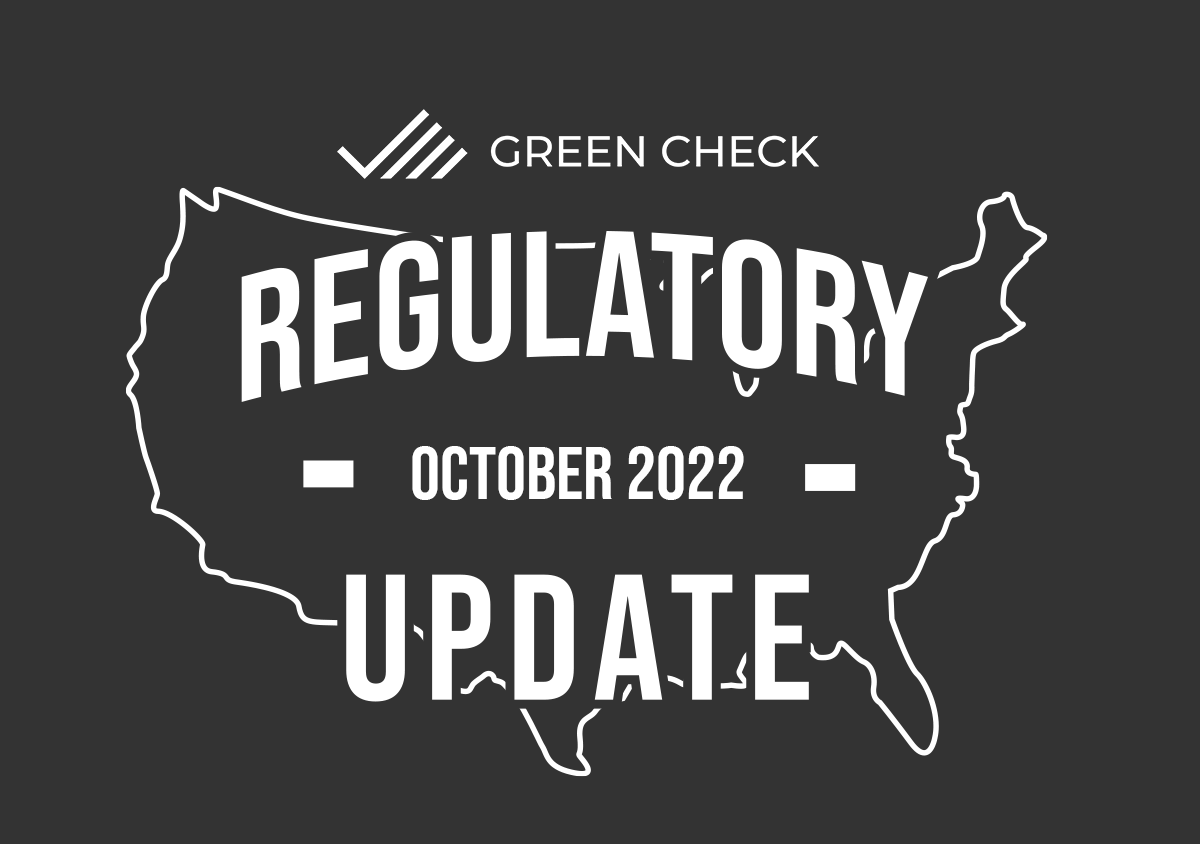 States Matters
New Jersey
The New Jersey Assembly has approved a bill that would allow licensed marijuana businesses to deduct certain expenses on their state tax returns, creating a partial remedy to the substantial tax woes cannabis businesses face. The lack of federal regulation for the industry continues to block businesses from making federal deductions under Internal Revenue Service (IRS) code known as 280E. While generally, state tax policy mirrors federal law, this new bill states "a licensed cannabis business's gross income "shall be determined without regard to section 280E of the [federal] Internal Revenue Code" according to Marijuana Moment. Now the measure heads to the Senate for consideration. Pennsylvania and New York have taken similar steps to initiate similar tax reform measures.
Nevada
Nevada Marijuana Regulators have received over 100 consumption lounge applications since announcing the new license type last month, with plans to approve them by early 2023. Current retailers are able to apply to build lounges into their existing operations. Independent Operators have the opportunity to create lounges by entering into a contract with a retailer to purchase and prepare ready-to-consume cannabis products for resale at brand-new facilities. According to a press release, "CCB received 20 applications from existing retailers, 50 from independent lounge applicants, and 30 from independent social equity applicants". The CCB may issue 20 independent cannabis consumption lounge licenses, of which half have been designated for social equity applicants. This new license type will allow license holders to incorporate cannabis with Yoga, massage therapy, and infused food, as well as smoking and vaping in separate rooms.  Water will be freely available to all guests but products that are meant to be single-use or ready-to-consume will not be allowed to leave the premises.
Arizona
Arizona nears 1 billion in legal marijuana sales for 2022. Total cannabis sales passed the $980 million mark in the first eight months of 2022 and will likely approach, if not eclipse, 2021's $1.4 billion before the year ends.
Pennsylvania (HEMP)
Pennsylvania launched a grant program to support hemp marketing and consumer awareness. The state Department of Agriculture said that non-profit organizations that take on marketing initiatives to increase hemp sales, exports, and consumer awareness of the industry are eligible for reimbursement. The purpose of the program is threefold, according to a notice in the Pennsylvania Bulletin:
Increase Consumer awareness of agricultural hemp products within PA, thereby increasing sales of agricultural hemp products.

Educate producers and consumers about agricultural hemp products within PA

Facilitate the Growth and development of export markets for agricultural hemp products in PA
Michigan (Detroit)
The City of Detroit received 90 applications for the 60 recreational marijuana licenses available in the first round, which include licenses for dispensaries, microbusinesses, and consumption lounges. 50 non-equity and 40 equity applications were submitted by the deadline of Oct. 1, with 28 of the 40 equity applicants qualifying for Detroit Legacy status as well, according to Kim James, director of Detroit's office of marijuana ventures and entrepreneurship.
The city will issue a total of 160 licenses in three phases. The 60 licenses that will be awarded in the first phase include 40 retail, 10 microbusiness, and 10 consumption lounge licenses. Detroit started accepting applications for unlimited licenses for growing or processing cannabis in April of 2022. Half of all the limited licenses are set aside for "equity applicants" defined by the city as people who live in communities that have been disproportionately impacted by marijuana prohibition and enforcement. Equity applicants also include those with certified Detroit Legacy status currently living in Detroit or another disproportionately impacted community, however, Detroit has faced multiple legal challenges over this piece of its ordinance.
After two lawsuits that challenged the ordinance were dismissed in August, the city moved forward with opening its application process for the limited licenses on September 1st. However, another lawsuit was filed at the end of last month in the U.S. District Court for the Eastern District of Michigan, claiming the ordinance gave an unfair preference to longtime Detroiters.
Cannabis Updates
Cannabis as Cash Crop
The wholesale value of marijuana across 15 adult-use states has reached $5 billion—making it the sixth most valuable cash crop in the country, above potatoes and rice—according to a new report. The $5 billion does not account for the medical cannabis market that provides for medical cannabis patients in 37 States. 
With an estimated 13,300 American farms growing cannabis, the significant takeaway is that the cannabis industry is a large component of the agriculture industry, even if it's only legal and regulated by certain states thus far. Crops that exceed its value are:
Corn @ $82.6 billion, 

Soybeans @ $57.5 billion

Hay @ $19.3 billion 

Wheat @ $11.9 billion 

Cotton @ $7.5 billion
Researchers found that farmers grew 24 percent more metric tons of adult-use marijuana in 2021 compared to the previous year. Overall, the sector cultivated 2,834 metric tons of cannabis. While the USDA does not (publicly) track marijuana cultivation, they have released the results of a first-ever federal survey on the hemp industry earlier this year, "providing a "benchmark" analysis of the economic impact of the burgeoning market and finding that the industry reached $824 million in value in 2021".
Cannabis Employment
According to a Leafly report released this February, there are almost half a million people employed full-time in the cannabis sector as more state markets come online and mature. Last year was the first time that job creation in the marijuana industry exceeded six figures, with 107,059 new jobs created, compared to 32,700 in 2019 and 77,300 in 2020. As of 2021, there are 428,059 people employed in the marijuana space, compared to 321,000 the prior year.