Regulatory Update – December 2022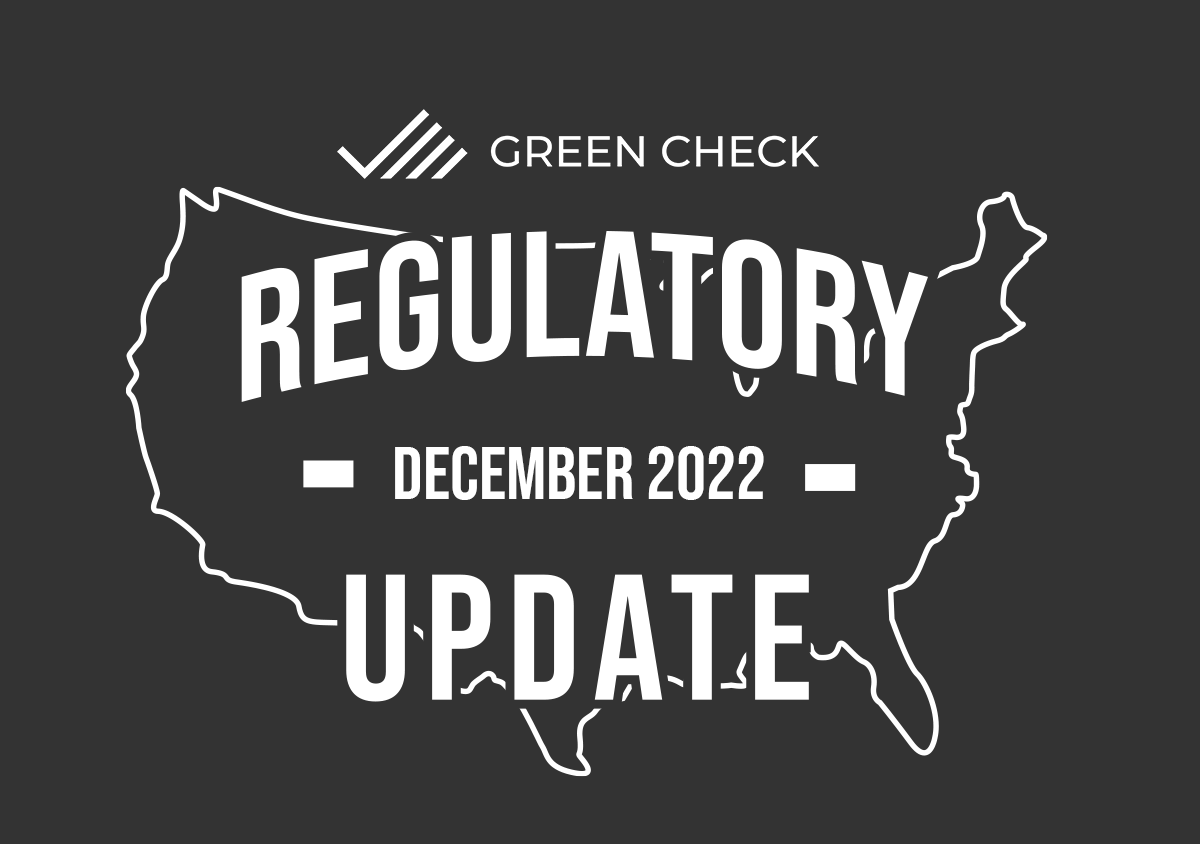 States Matters
Rhode Island
As of December 5th, 2022, Rhode Island has eliminated the fee to obtain a medical card for Medical Cannabis. Patients will no longer have to pay $50 for a card and renewal fees. The move to end these fees comes at the commencement of recreational sales in the state. Although the fees are gone, the 7% sales tax rate is still intact. 
New York
Just meeting the state's self-imposed deadline of December 31st for the opening of a retail location, Legal Cannabis Dispensary Sales began officially at 4:20 pm in the State of New York on Thursday, December 29th at Housing Works, a non-profit organization that supports people living with HIV and AIDS in the Greenwich Village "NO-HO" section of Manhattan. A former Gap Clothing Store located at 750 Broadway. Doors opened with about 2000 online reservations as hundreds of people stood online hoping for a chance to enter.  The inaugural purchase was made by New York State's Top Cannabis regulator, Chris Alexander, the executive director of the New York Office of Cannabis Management. New York adult-use retailers are projected to generate $1 billion-$1.2 billion in sales in 2023 and $2.2 billion-$2.7 billion by 2026, according to the 2022 MJBiz Factbook.
General Cannabis Updates
President Biden
On Friday, December 2nd, President Biden made history when he signed the bipartisan Medical Marijuana and Cannabidiol Research Expansion Act. The Legislation makes it easier for researchers to study cannabis and its potential therapeutic benefits. The bill allows universities, including those that receive federal funding, and private companies to acquire DEA licenses to grow and handle cannabis for research purposes. There are currently seven institutions licensed by the DEA to produce marijuana for research purposes. The Legislation also directs the Department of Health and Human Services (DHHS), to research the "therapeutic potential of cannabis". This bill creates pathways for a new area of business within the Cannabis industry, particularly for pharmaceutical companies. Such research could lead to the creation of cannabis-based products that are marketed and sold using science-based medical claims.
FDA
The Food and Drug Administration recently tasked with carrying out a scientific review of cannabis in order to inform Federal Scheduling, says that it is just months away from releasing its regulatory assessment of Hemp products, particularly CBD. Hemp and its derivatives like CBD were legalized in the 2018 Farm Bill, but the FDA, under much criticism, has delayed rolling out any regulations, maintaining that research needed to be completed. The Principal Deputy Commissioner Janet Woodcock and her team discussed the next steps necessary to regulate consumable CBD products, suggesting that the traditional pathway of regulating it as a dietary supplement may not be feasible. It is possible that the FDA may pass the baton to Congress in order for a regulatory pathway to be created. While the FDA struggles to create a regulatory framework, other derivatives like Delta-8 THC are finding their way into the marketplace, which is a "more intensifying short-term concern" according to Norman Biernbaum of the FDA. Bipartisan lawmakers have repeatedly pressed the FDA to create a marketing pathway for CBD in the food supply and as a dietary supplement. 
New Payment Software for Cannabis Industry
Former NBA Indiana Pacers player David Harrison and Former Rep. Dan Donovan (R-NY) have teamed up to launch a new product that they think can aid in resolving the industry's financial challenges, regardless of federal reform. "Token HiFi, a digital asset exchange program, built to provide individualized tracking and reporting services to meet each state's specific regulatory needs." The duo believes that the current political landscape around cannabis policy and lack of progress on SAFE banking in congress create a space for their product to thrive. Their goal is to launch in early Q1 2023. 
SAFE Banking Act
Despite a rational and impassioned plea for federal cannabis banking reform, The SAFE BANKING ACT did not pass. Eight Pennsylvania lawmakers released an impassioned plea to Senator Pat Toomney, who Retired at the end of the last congressional session, in a last-ditch effort to get the legislation passed. Without the support from Toomey, Senator Mitch McConnell was able to block SAFE from attaching to the National Defense Authorization Act, and the Omnibus Spending Bill. "Without enough time in the lame-duck session to submit SAFE to the typical committee process and a floor vote, Schumer's push to package cannabis banking reform into larger legislation – a common enough technique in Washington – was considered the bill's best shot at passage before 2023." Senator Chuck Schumer found himself at an impasse late in the game with Republicans feeling it was too late to take action and Democrats asking for more social justice reforms in the bill. In the end, the act failed because it lacked one Republican co-sponsor to seal the deal.