Green Check Honored as a 2023 U.S. Fintech Awards 'Banking Tech of the Year' Finalist
Trailblazing fintech in the emerging cannabis market shortlisted in coveted fintech ranking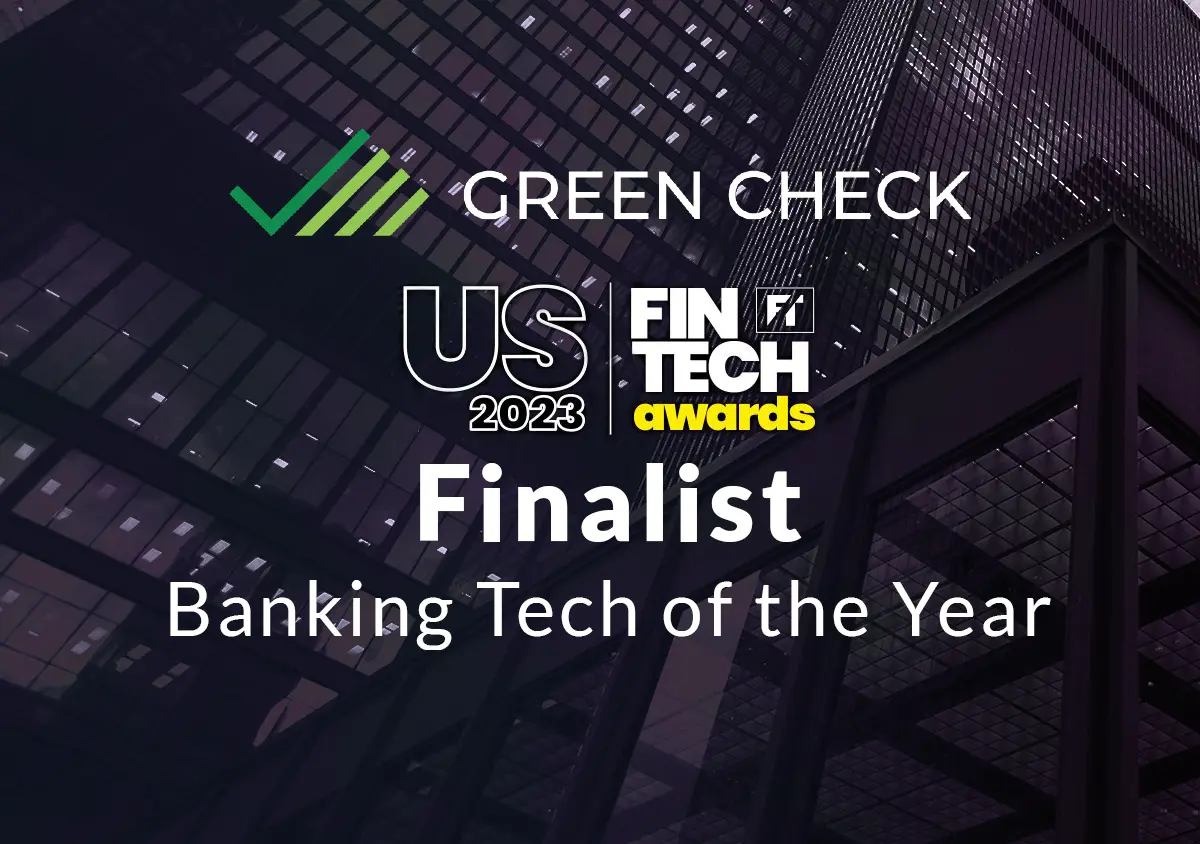 BONITA SPRINGS, FL – August 14, 2023 – Green Check (GC), the leading fintech connector and technology and insights provider in the emerging cannabis market, today announced the company has been selected a 2023 U.S. Fintech Awards finalist in the "Banking Tech of the Year" category, alongside industry leaders Dragonfly Financial Technologies and ChargeAfter.
"We are deeply thankful for this industry recognition, which validates the efficacy of our efforts to transform the emerging cannabis market," said Kevin Hart, CEO and co-founder of Green Check. "With our cutting-edge technology, we're expanding access to financial services for legal cannabis businesses across the country. Already, we've onboarded nearly 150 financial institutions and more than 7,000 CRBs onto our industry-leading platform – and we're just getting started."
The U.S. Fintech Awards were developed to celebrate achievements and successes of the best and brightest innovators in the world's premier financial services center.
This year's applicants faced more competition than ever, with a record number of submissions that spanned fintech categories like insurtech, payments, personal finance, and regtech. Judged by an independent panel of experts, the winners of the 2023 cohort will be announced at a black-tie awards ceremony on November 2, in New York City.
Today's announcement builds on a series of recent industry accolades for  Green Check. Earlier this year, Green Check was honored in the Forbes Cannabis 42.0 list, named a finalist in the 2023 Banking Tech Awards USA "Tech of the Future" category, and recognized as one of the 'Best Places to Work in Fintech' by American Banker for the second consecutive year.
To learn more about the U.S. FinTech Awards and this year's finalists, visit usfintechawards.com.
About Green Check Verified
Green Check Verified (GCV) is modernizing the way cannabis businesses and financial institutions work together. Founded in 2017 by a team of technology, banking, and regulatory experts, GCV provides industry-leading technology and advisory services to nearly 150 financial institutions and over 6,800 cannabis-related businesses. Green Check Verified was included in the 2023 Forbes Cannabis 42.0 and named one of 50 game-changers in the cannabis industry in the 4th annual The Cannabis 50. It has been repeatedly recognized as Top Compliance Company and Top Compliance Leader at the PBC Awards, the premier cannabis industry honors. It also was named as one of top three Best Places to Work in Fintech in 2022 by American Banker. To learn more about Green Check Verified, visit www.greencheckverified.com and follow it on LinkedIn.