TASI® Bank Partners with Green Check Verified to Grow its Boutique Cannabis Banking Program
Enhanced capabilities will allow "maverick" community bank to expand its cannabis clientele across California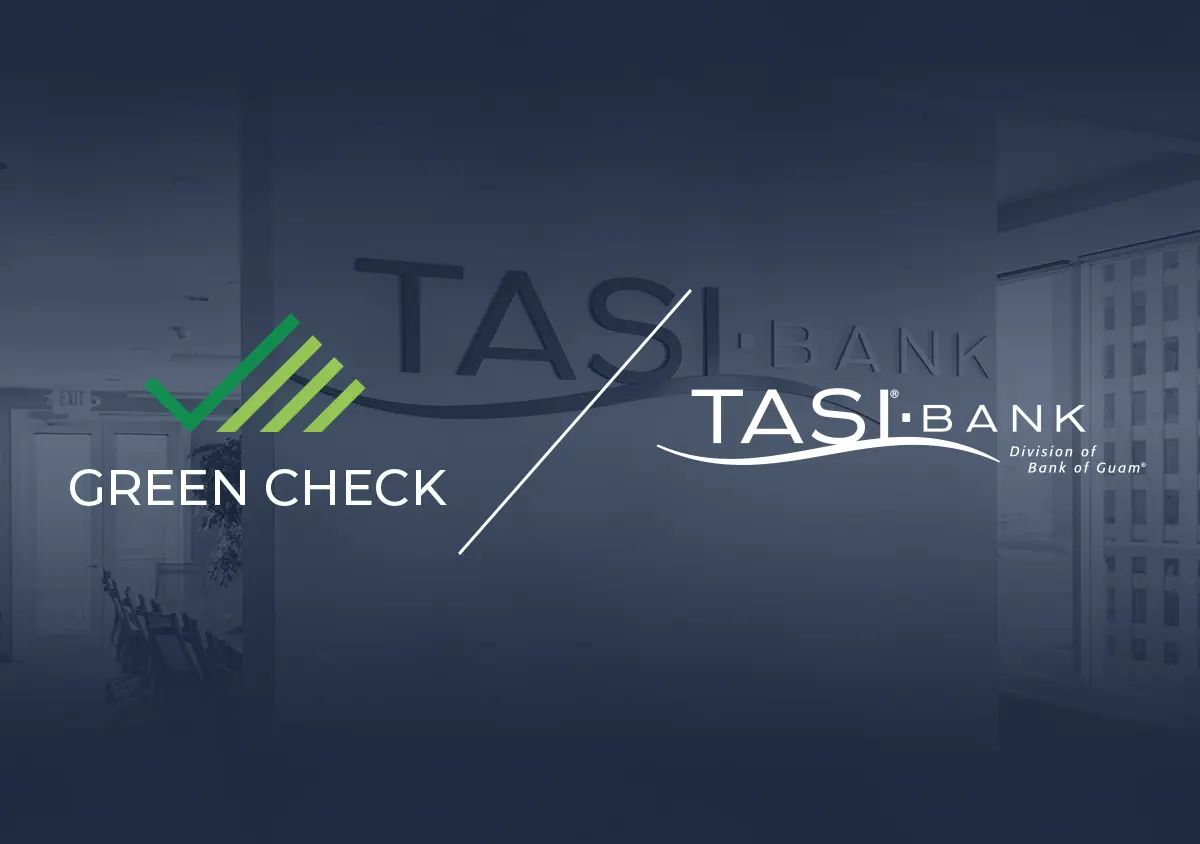 BONITA SPRINGS, FL – August 15, 2023 – Green Check Verified (GCV), the leading fintech connector and technology and insights provider in the emerging cannabis market, today announced its partnership with TASI Bank, which serves an extensive array of local businesses in the San Francisco Bay Area. This partnership empowers the community bank, a division of the Bank of Guam®, to expand its cannabis banking offering for communities across nine Bay Area counties and add to the formidable clientele it has amassed in the past five years.
"At TASI Bank, we're proud of our reputation as a 'maverick' of community banking and our track record of serving industry segments that larger financial institutions may shun," said Dave Joves, president of TASI Bank. "Our partnership with Green Check Verified adds another tool to our cannabis banking arsenal as we continue to reinvent modern-day banking. With GCV's user-friendly platform and superb service, we can keep growing our client base with local cannabis businesses – all while monitoring the performance of our cannabis portfolio and ensuring compliance with evolving regulations."
A Minority Depository Institution (MDI) and a U.S. Small Business Administration Preferred Lender, TASI Bank tailors its services to meet the specific financing needs of local businesses. TASI Bank also offers its customers a wide range of innovative products and services that combine the traditional offerings of a bank with online and fintech capabilities, such as deposit accounts, loans, online and mobile banking, and remote deposit capture. 
"TASI Bank doesn't shy away from serving the underbanked, including the many local businesses bolstering California's cannabis market," said Kevin Hart, CEO of GCV. "Green Check Verified is proud to partner with TASI to help propel its mission of offering the most innovative, reliable and compliant banking solutions to current and future customers — especially cannabis operators in dire need of better banking solutions. Together, we're helping open up more doors for legal cannabis businesses throughout San Francisco and beyond."
Green Check Verified, which continues to broaden its footprint across the U.S., has now onboarded nearly 150 financial institutions and more than 6,800 cannabis-related businesses on its industry-leading platform.
About TASI Bank:
TASI Bank, located in San Francisco's Financial District, has served a broad community of business and commercial customers in the nine Bay Area counties since 1983. A maverick in community banking, it builds value for its client base by being flexible and adaptive and providing the traditional services of a bank combined with online, fintech capabilities. A division of the Bank of Guam, TASI encourages its staff to create and provide innovative products and services that meet customer needs. It defines its own success by the level of success that customers achieve. As a Minority Depository Institution (MDI) and an SBA Preferred Lender, it has the regulatory flexibility and the expertise to say, "yes," for customers who may have been denied at other institutions.
About Green Check Verified
Green Check Verified (GCV) is modernizing the way cannabis businesses and financial institutions work together. Founded in 2017 by a team of technology, banking, and regulatory experts, GCV provides industry-leading technology and advisory services to nearly 150 financial institutions and over 6,800 cannabis-related businesses. Green Check Verified was included in the 2023 Forbes Cannabis 42.0 and named one of 50 game-changers in the cannabis industry in the 4th annual The Cannabis 50. It has been repeatedly recognized as Top Compliance Company and Top Compliance Leader at the PBC Awards, the premier cannabis industry honors. It also was named as one of top three Best Places to Work in Fintech in 2022 by American Banker. To learn more about Green Check Verified, visit www.greencheckverified.com and follow it on LinkedIn.